If you want display the most popular posts on your WordPress Blog with a plugin, don't search any further. Here in this guide, we have a list of the best WordPress Popular Posts Plugins, so you can show your readers what they should be reading.
If you are looking for a way to display related posts on your WordPress Site, we got you covered 😉
What are the benefits of a Popular Posts Plugin?
It gives your users an idea of the content your readers likes at a given time. Most of the plugins will allow you to set, in which time period the views are counted and posts of which category or tags are displayed.
Also, it generates a sense of urgency, to keep your audience engaged. I mean, think of this: If someone sees a popular post about a topic they never heard of, they might have a sense of missing something and are more likely to click through.
This will increase your page views and session time, so it will send positive ranking signals over to Google and boost your SEO 😉
What is special about Plugins that display the Most Read Posts?
Well, they all work. But the work different ways. Most of them will add a mechanism to count the users on your blog or your posts, if they don't use the comments count as a popularity proxy.
The counting doesn't come free, the function used will add some extra scripts or queries to your website or database. Your load time might suffer from this, especially when you are on shared hosting.
Managed Hosting providers like Kinsta and WP Engine also banned some plugins below, because they don't scale well on large or high traffic sites.
If you have the choice, you should use data that is already imported from Google Analytics for example, like MonsterInsights does. I for myself am betting on the rank math plugin and hope they will add a widget like monsterinsights somewhere in the near future 😀
Top 4 WordPress Popular Posts Plugins
The WordPress Popular Posts Plugin adds a Popular Posts widget to your inventory, and is based on the visitor count. It also supports custom post types, changing the appearance and style via custom theme and has advanced caching/performance features.
If you wan't to find the perfect color for your custom theme, just use the color picker integrated in chrome 😉.
Of course, you can also use some default widget themes, like Cards, Cards Compact, Cardview and Cardview Compact. Furthermore you are able to set the time range relevant for the widget and display the popular posts list, including the post title and the featured image. Also, you might order your popular list by comments, views or average views per day!
So, this Plugin is quite powerful with a lot of performance features and compatibility, even with some caching plugins. The best is of course, that it is free, support is responsive and well known with currently over 300000 installations!
MonsterInsights is a Premium WordPress Plugin for Google Analytics integration, which Includes much more than only related posts. It displays the Analytics Stats right at your WordPress Dashboard and has many Improvements for the Google tracking script only one click away.
The paid version does allow you to display your most popular products or posts based on comments, share count, or manually select posts that will randomly rotate in the widget. But when you have custom dimensions set up, Monsterinsights will automatically pick the top 5 posts from Google Analytics from the past 30 days.
If you already own MonsterInsights this is the option you want to use. But if you only want to display Popular Posts, the price is insane 😉
This might look a little familiar, if you red our guide on the best WordPress Related Posts Plugins. This is because one of the developes (Ajay), also is the guy behind the famous Contextual related posts plugin.
This plugin adds sidebar widgets for daily popular and overall popular posts, which are highly customizable. Your page views are counted on single posts, pages and custom post types on an hourly basis. In addition to the Widgets, you can also use shortcode or functions to display the popular posts in your article or theme, with or without WordPress thumbnail image.
Overall, a very good alternative to WordPress Popular Posts, but not as powerful.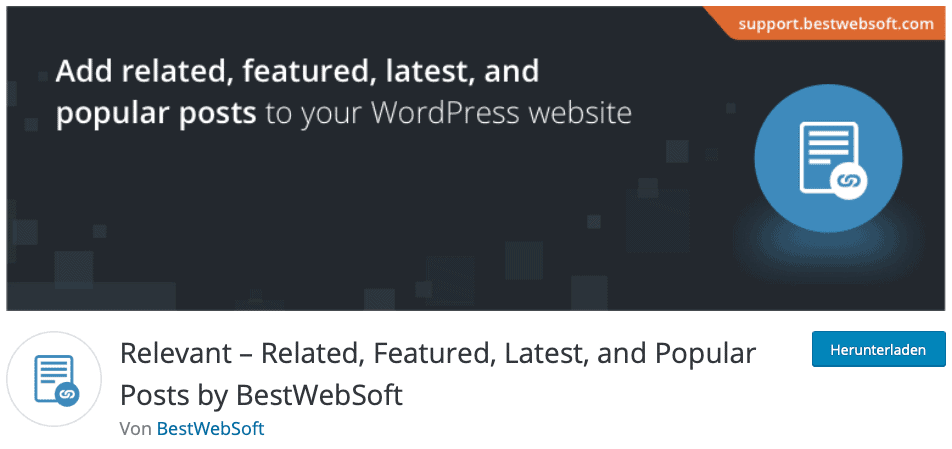 This Plugin will enable you, to show your popular posts, featured articles, related content, and latest posts on your WordPress website. For all of these, there will be multiple customizable widgets available. If you don't like widgets, you can also use shortcode and template tags to display it anywhere on your website.
Sorting is available by comments or page views. You can display the post thumbnail, author, excerpt, and post date and customize what is displayed.
So, it does a lot more than popular posts, but that isn't a crime 😉 But what is a little downside here, is that it won't let you pick a time range for the popular posts.
These are our favorite Plugins for displaying popular posts in your WordPress articles. What do you think or use? Let us know in the comments below!