As a WordPress Blogger and Hosting-Provider for my customers, I am always concerned, if there might be a better alternative to my current WordPress Hosting. Especially if you are just starting out, laying the foundation for your Blog or are all into Performance Optimizing, the best WordPress Hosting should probably be your main concern. This is why I wrote this comparison of Kinsta, SiteGround and Cloudways, which are in my opinion nothing but the best in the Industry, so you can make your decision easier than me.
Why did I do this comparison?
Well, actually it's quite simple: Currently I am a happy SiteGround customer, and have had nothing but good experiences so far. It took a long time for me to decide, but after long reading through blog Articles and Hosting Reviews, I choose SiteGround. The Pricing, official recommendation by WordPress and the extraordinary Support were my main criteria.
Kinsta wasn't on my radar that time, but since I am on SiteGround, I have red many good things about them. Basically everybody says, that there is no better WordPress Hosting when it's about performance, functionality, support or tools. I guess you could describe it as the 'Sit back and relax' experience. This made me thinking, "Maybe I am missing something out here", and was the initial impulse for me to do this Comparison. In Fact, I wanted to call this Article SiteGround vs Kinsta at the beginning.
But then I heard about Cloudways, which is often recommended as a good alternative to well known Hosting companies. What really makes it interesting for me is the fact, that this is a Cloud-Provider. So you have full control about performance, scalability and resources. And the fact that you can just enable Functions like Redis without additional costs, is a huge advantage!
Introducing of the WordPress Hosting Companies
SiteGround

member of the 3 official recommended WordPress Hosting Companies
. Why I
didn't add the other 2
to this comparison? In my experience,
SiteGround
is
way ahead
of them in
all key aspects
. If it is
support
,
performance
or
reliability
, SiteGround is just better. End of Story
The Question is, how does SiteGround differ form Kinsta or Cloudways? SiteGround is hosting all of it's Server on Google Cloud Platform (like Kinsta), but doesn't offer dedicated hosting in the 3 WordPress-Packages. SiteGround is all about Shared Hosting (besides form Cloud-Hosting). This means, that you share the resources of your server, like CPU, RAM and storage, with other customers. But of course, each customer only sees his own data and won't see or notice the other WordPress instances on the server 😉
Unlike many other hosting providers, at SiteGround the discount applies to any of the initial periods chosen during the sign up process. This makes SiteGround Pricing quiet compelling and is very good for your wallet. Also please keep in mind, that there is no traffic limmit and with every other paln than StartUp, you can host as many websites as you want!
So what's the deal here? Your WordPress instances will be limited by CPU-Executions and CPU-Usage-Time. So you need to keep an eye on these numbers and have to configure your WordPress Site to use the least resources possible! (i.e. by disabling the Heartbeat-API and avoiding resource-hungry plugins like YARPP)
If you overcome these Limits, SiteGround will contact you. I recommend you that you get in touch with their support to receive instructions on what you should do next or if it is time to upgrade to a bigger plan.
But there is more: Free CDN, Free SSL Certificate, DNS-Management, Staging-Sites and much more. Also, E-Mail-Hosting is included with every plan! The Free CDN you get is the "default" Cloudflare offer, it's not bad, but it's not that special either.
The WordPress Support is in my experience one of the best. Seriously, in this price-range you will struggle to find a support that matches their quality standards. Doesn't matter if I had a question about an .htaccess File or any other WordPress Related topic. They always managed to help me very fast and provided accurate information.
Kinsta
Dedicated WordPress Servers
will be hosted on
Google Cloud Platform
(
Premium tier
, I guess not all companies paid this extra fee) and have a
Firewall
in front of it.
Daily Backup
,
free premium migration credits
(done for you),
unlimited basic migrations
,
a bunch of CDN-Traffic
,
free SSL Certificates
and
Hack-Removal
are
included!
By the way: If you only wan't to migrate specific posts, check out our tutorial on how to migrate WordPress Posts with Images 😉
What makes Kinsta so much different (besides from the amazing features) is their pricing. At Kinsta, you get a dedicated Server and, based on your plan, a decent fixed amount of storage for your files and a fixed number of PHP workers. But you don't have assigned resources, like CPU or RAM. Kinsta is scaling your CPU and RAM on demand, so your servers don't crash or throw 504 Gateway timeout errors on traffic peaks. An all this is happening without you noticing it, and I have to tell you, it works like charm!
This means, even at high traffic peaks your website will be blazing fast as always. Don't underestimate this, can't tell you how many sleepless nights I had because my server might go down. But it also means, that Kinsta's pricing is based on the number of visits your site gets (on a monthly basis). If you overage this numbers, you can always pay the overage fee or just upgrade to a bigger plan, which might give you more PHP workers, disk space and CDN Traffic.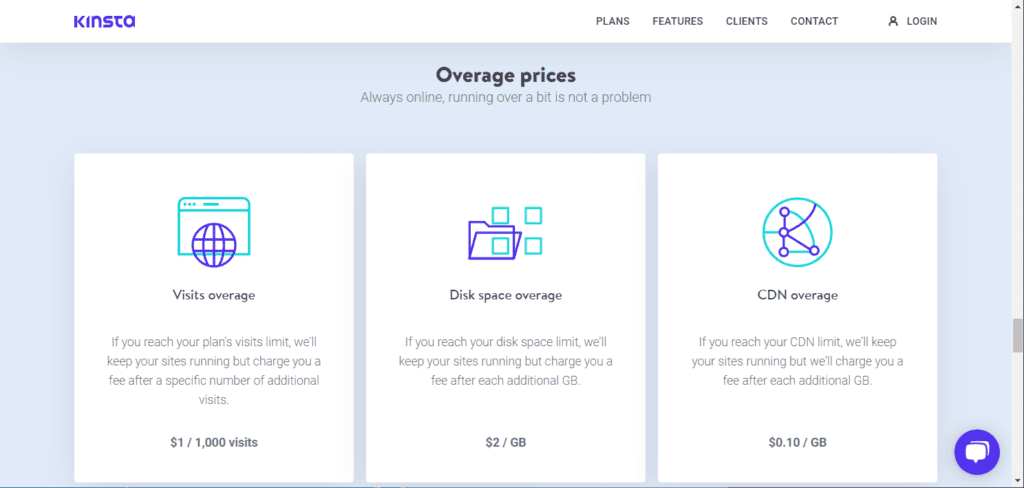 By the way, Kinsta doesn't offer Mail-Hosting and points you to tools like G-Suite.
Cloudways

isn't just a WordPress Hosting Provider
, it is a
Managed Cloud Hosting Platform
. This means, that you can
create an account
(
3 Days Free Trail here
),
choose a server
from one of the
best cloud-providers on the market
(
Google Cloud Platform, Amazon AWS, Vultr, linode, DigitalOcean)
and
which dimensions
in terms of
CPU
,
RAM
,
Disk-Space
and in
some cases Traffic
you want and you
have your own managed Server
deployed
for you.
Why you don't go directly to Google Cloud and cut out the Middle-Man Cloudways? Very Easy: Because at cloudways, you will have the Updates, PHP-Versions and additional Services like Apache, Memcached, Nginx, Redis, Varnish and Elasticsearch installed for you, while you stay in full control! But you don't really have to install them, it's all done with the click of a button.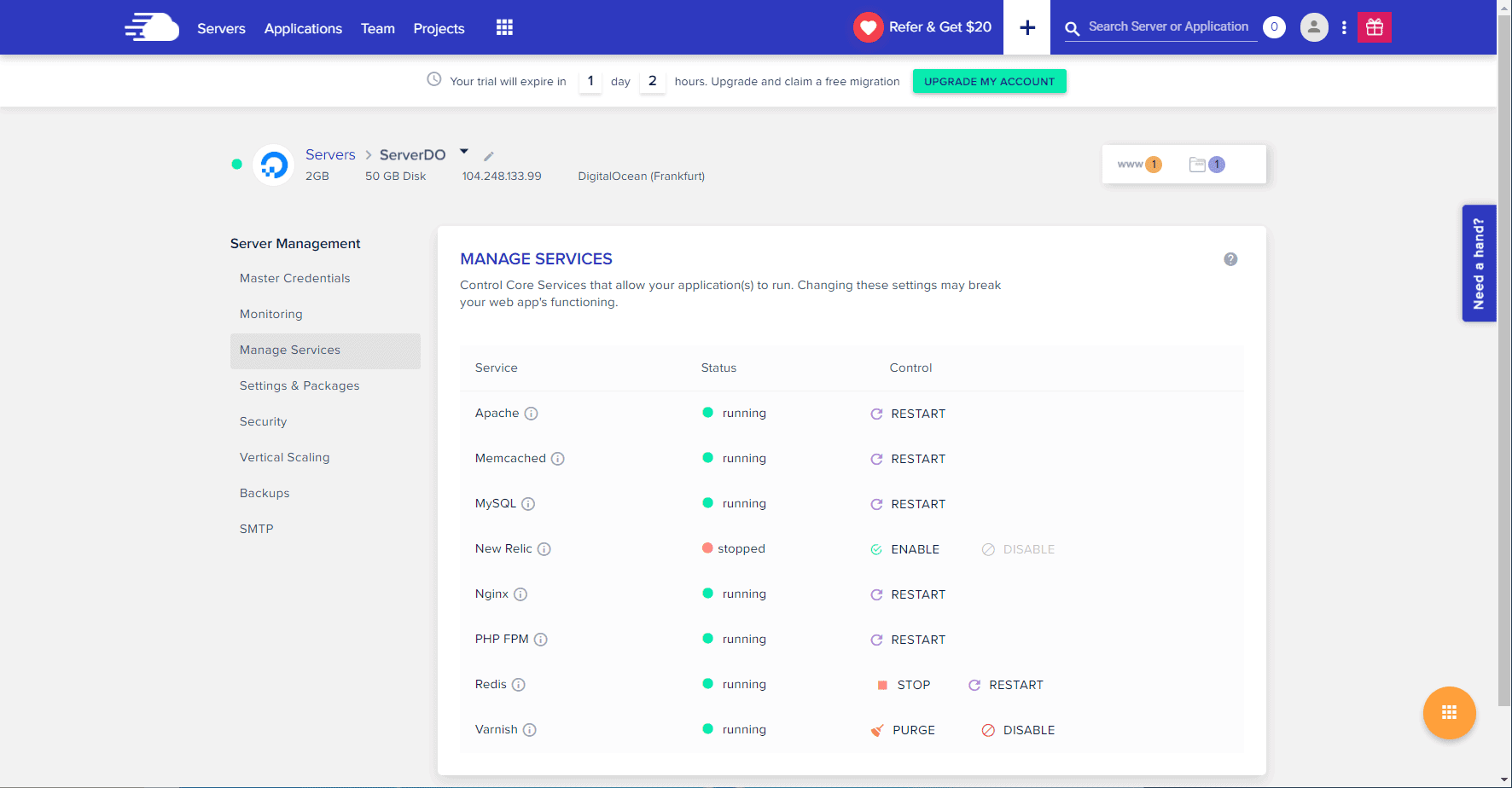 This is exactly how you would Install WordPress. With the click of a button, you can add one (or multiple) WordPress Instances to your Server. You can decide, how many Sites should run on one Server. Besides that, you can also install Plain PHP, Laravel, Magento, Drupal, OpenCart, PrestaShop or Joomla.
And just Like Kinsta, Mail-Hosting isn't included. But you can buy Mailboxes as an addon for 1$ per month and host them at Cloudways partner Rackspace.
At Cloudways you decide the price, or more specifically, your Server-Size. You pay hourly for the assigned resources to your server, which you can upgrade anytime (But you can't always downgrade). Of course, for a better price-calculation, there will be a monthly estimate displayed 😉
Kinsta vs SiteGround vs Cloudways – The Comparison
For this Hosting Review, I have chosen 3 Main criteria:
Uptime
Management Tools and UI
Performance
The Uptime, meaning the time your website is available and reachable, is the main criteria. Believe me, the best Website doesn't mean a thing, if you experience regular downtimes. And by the ways, Google also thinks this way.
The management tolls might not seem obvious, but you will have them for the whole time you are with this company. If they are well-designed and user-friendly, you'll be able to find errors and do some analytics quickly (and vice versa).
The Performance should also be one of your main concerns, when deciding if the Hosting is right for you or not. Nobody likes a slow website, and you should also be aware that Google introduced loading speed as a key ranking factor!
Management Tools & UI
Kinsta MyKinsta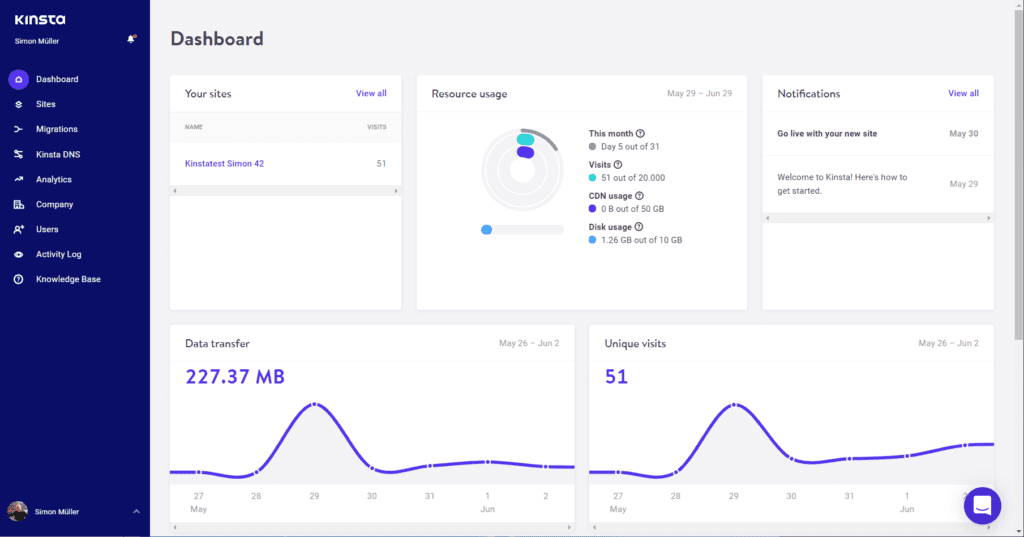 Can't think of a single bad or ugly thing here, Kinsta is by far my favorite when it comes to the Dashboard UI and the Tools you have included. Its very well-designed, intuitive to use and gets extended regularly (lately the included performance-monitoring, so you can identify problems with plugins or other queries executed by WordPress)
Also, you are able to view statistics, request migrations, execute a search and replace tool or create some redirections for your website. Be aware that you have to use the redirection manager. At kinsta you have no .htaccess file, but you can also import redirects instead of creating them manually 😉
But it doesn't end here, you can view your sites, change DNS settings or create records, view installed WordPress Plugins, configure CDN settings and create users for your customers and much more. One last thing to mention is the integration of New Relic monitoring (PHP monitoring tool you can use to get detailed performance statistics on your website), which will also be used by the support. In my experience, this is a real game-changer, since it enables you (or the support) to nail down problems till the origin is found!
Even though all Features are intuitive to use and you shouldn't need any explanation, there is also a knowledge base and the support, which you can contact via live-chat directly from your dashboard.
Siteground CPanel
In comparison to kinsta, sitegrounds cpanel is out of date. Not intuitive to use and it reminds me of windows xp, which isn't a plus point (at least for me ;)).
You get all the features you need, like DNS – or mailbox management. You can also enable GIT, change your Caching settings, request SSL Certificates, add new WordPress installations, create staging-copies and view statistics of your website.
So yea, nothing to special I would say 😀 You can also take a look at their knowledge-base if you have a question or ask the support, which is available in your User Area (not directly from the cPanel). The also introduced a new UI as a replacement for the cPanel, the SiteGround Site Tools. But since the have not migrated me so far, I can't tell you something about it…
Cloudways Application Management
Different but Okay, would be my 3 word resume about the Cloudways UI. Of course, you have also a Knowledge Base available and can ask the support if there are any questions about the management-tools.
The functions are quite similar to Kinsta and SiteGround, but you have more control about your enabled services and have a master-access to your server. Monitoring is included to, you can create backups, request migrations and enable GIT. Something to point out here is that your backups are stored on your server, off-site backups are available for additional cost!
I found all things I needed quiet fast. But for somebody who is not as nerdy as I am, ti might be a little difficult to dig through the different sections and tools.
Uptime
The Uptime is one of the most critical things to consider when picking your WordPress hosting. As you know, the best website doesn't earn you anything except frustrated users, when it is not available.
But good news here, all the 3 Hosters i chose for this comparison have excellen Availability agreements:
SiteGround guarantees 99.9% Uptime in Yearly average
Kinsta provides 99,9% Uptime a month!
Cloudways gets you 99.95%-100% Uptime, depending on the hoster you choose
All statements without guarantee.
Why I didn't measure them myself to check, if this fits reality? Very simple: The Hosting companies won't break their promises on that, because it costs them a lot of money if they would! If this really happens to you, you can (and all other too) get your money refunded (maybe partial)! Companies are smarter than that, so that's not really a thing to consider (at least for the 3 compared here, cheaper ones have serious issues with downtimes).
Performance
Nerly as important as the Uptime is the Performance. The biggest chunk of your Site Performance depends on your Hosting and my testing results surprised me. I bet they'll suprise you to!
What did I test?
It all comes down to loading times, I guess you already guessed that… But before we start first, let's see which account types or packages I actually tested here:
On SiteGround, I opted for the GoGeek Account

11.95€ per month for max 3 years, 29.99€ pro month afterwards (excl. VAT, all statements without guarantee)

At Kinsta, I chose the smallest (starter) plan for a maximum of 20.000 Visits

30 $ per month (excl. VAT, all statements without guarantee)

For Couldways, I chose a Digital Ocean server with 2 GB RAM, 50 GB SSD storage, 2 TB data transfer and 1 Core processor

22$ per month (excl. VAT, all statements without guarantee)
I think, these plany all play in the same price-league and are compareable. By the way, the sever are located in the datacenter Frankfurt and all got ssd storage.
How did I Test?
With tow tool, on the one hand GTmetrix and on the other hand Pingdom. I created a new website based on a Studiopress (Genesis Farmework) Template called Navigation on at all 3 Hosting providers. So i tested the exact same page on all of them!
The Plugins enabled were exatly the same, without the caching plugin of the respective hosting company. Okay, enought text, letzt get to the facts and charts.
GTmetrix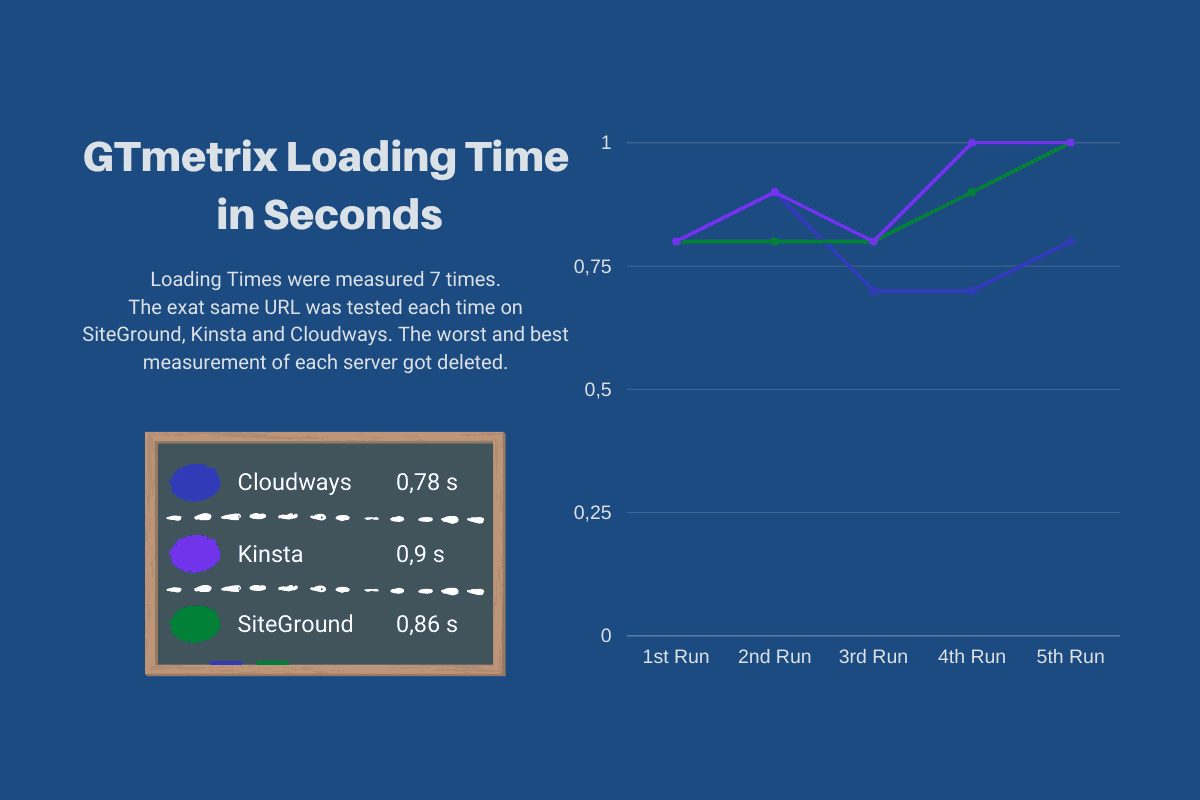 The results really suprised me. Why? Kinsta was all the way to the top on other reviews on performance, but was in my test the slowest of the pack. My current, and way cheaper, GoGeek hosting on SiteGround, which is not dedicated but shared hosting, is even faster sometimes or as fast as Kinsta. Also we have to consider, that my siteground account currently contains 4 websites which receive real traffic, not a single website without traffic like Kinsta or Cloudways.
The best performing one here was Cloudways. 0.22 Seconds is a difference, but don't get me wrong, the are all very close and you won't notice the difference most of the time.
Pingdom
At first i thought, i did something wrong. But i did this test multiple times, and the results was quiet similar. Cloudways was the fastest (again), but i didn't believe that SiteGround and Kinsta are the same speed at avarage. This was umbelievable for me.
Maybe they had a bad day at Kinsta or something. Because my optinion at the backend has been, that Kinsta had a little bit of extra snappines compared to cloudways and for sure to SiteGround. At SiteGround, the backend of my website was the slowest when instaling plugins or just writing a blog post.
But on the frontend, all 3 websites felt quiet the same and it was very hard to tell a difference.
Why this ☝ is nonsense 😲!
If you just think: For real man? Yes! I am trying to make a point here and to warn you about some things you won't hear from anybody else.
Yes its true, Performance-Charts always look wonderful and confuse you in a sense, that everything is so easy. But most of the time the speed is measured without load (like here). But this is where you seperate the good from the bad hosters and in so many more aspects… Down here 👇 you'll hear more.
My Story
So, to put all these numbers and prices in reality, i have to tell you a little story. This is my story, true and without any left out details, just reality:
The Attack
I was at SiteGround quiet some time (round about 1 year), till the day my website got hit by a DDoS attack. The SiteGround Anti-Bot AI wasn't able to do anything about it or to recognize the attack, so the it was ongoing for about 72 hours.
The attack itself wasn't that big of an issue, till I reached the account limit (CPU Execution Time) on SiteGround. The DDoS or maybe more of a brute force attack, was consistently requesting my wp-login site, which is not cachable. Therefore, each request requires quiet some resources (this applies also for the WordPress backend or Dashboard in general) and so I overcame my limit quiet easily. If you exceed this limit to often or heavily, this is what could happen:
SiteGround limits your account in terms of performance
SiteGround takes your hosting account offline temporary
Your websites (all on the account) get very slow
Point 1 & 2 didn't happen to me, even though i exceeded my account limit by more than 3 times. This was just good will of SiteGround and before they ever take down your account, the will, of course, send an E-Mail to warn you and give you time to solve the issue.
But point 3 happened to me, since shared hosting wouldn't work otherwise. I mean think of it, on shared hosting it is not possible for one account to take all the resources. Otherwise, all other websites would go slow too. And you don't have to point your finger at SiteGround for limiting or taking down your account on overage, all shared hosting providers do this if they need to.
The Growth
After some sleepless nights the attack was blocked successfully and the WordPress Sites were back to normal again. But a short time after that (2 Weeks 😆) I grew my websites quiet a bit in terms of organic search and installed 2 additional plugins. This required so much CPU, that my account was hitting the limits again and my sites got painfully slow again. And I am not talking about waiting a little longer, we are talking about 4-8 Seconds load time here.
This was with a GoGeek account which is advertised for an estimate of 100.000 visitors, but I hit the limits at 50.000 users already.
Since I was happy with SiteGround, I wanted to give them a try and upgraded to Cloud-Hosting. But sadly, I can only warn you to do so. At Cloud-Hosting, you rent a virtual server, where you can actually assign CPU-Cores, Disk-Space and RAM and of course, pay for this.
This is of course a major upgrade, but nobody tells you how many resources you'll need. Depending on your peak amount of visitors and the plugins you use, this gets insane. And remember, if you don't scale for the peak times of your site, your site will go down and throw 504 Gateway errors, when your site is most popular. A plan that has just enough resources, so my site wouldn't go down, costs 100€ a month.
The Transition
So i decided to move to Kinsta, where the resources don't matter and the pricing is based on the number of visitors. I just had enough of calculating the CPU-Cores I need and how much it will cost me, or lying in bed and thinking: 'Will my websites stay online tonight?'. This might sound ridiculous to you, but once you start to grow a fan-base and make some money from your site, your mindset will change too.
And the move over to Kinsta was form start till now, a freaking awesome experience. The slogan "Peace of Mind" really nails it, here are some examples:
The Premium-Migrations are insane. Send credentials, lean back, ready.
Support is available 24/7 via live chat, and provides deep dive analytics and good-like experience
A Firewall, which hasn't let through any attacks so far. (But blocked a bunch)
Premium-DNS enhances the response-time, when your site is requested
Integrated Monitoring and analysis makes troubleshooting easy & fast
Fabulous control panel with so many features. Can't live without it any more 😅
The Performance

No the most important part for me: The performance is so much better than before. What? Didn't the test above show the opposite? Yes, ture, but that's what this is all about! You'll find many test of people, who literally don't have an idea of what they are doing. Or they will redo the test till it has the result the want to show in thier WordPress hosting review. I am also not that experienced when it comes to performance measurement. Maybe my results were just a coincidence, who knows.
But you know who is really experienced with performance measuring? WPMU DEV is a premium WordPress hosting company itelf with many years of experience in hosting and wordpress development. They did a comparison on their own, and i bet they would have had all reasons to just say that their servers are the fastest.
But no, they did a honest comparison and confirmed that Kinsta is the only host faster than all of the tested hosting providers, including themselfs. SiteGround was clearly slower by the way…
(Source: https://premium.wpmudev.org/kinsta-alternative/)
And of course i can tell you to, just by my experience, that Kinsta is definitely the fastest hosting i have ever tied among them all.
At Kinsta, even at traffic peaks, you won't notice a thing. Literally nothing. At SiteGround it's another story…
The backend of my WordPress feels 5 times faster than on Siteground (When editing posts, installing plugins, etc.)
And i can't tell you, how many times at the end of my SiteGround times, i saw the 504 Gateway error (even at cloud hosting). At Kinsta not one time, even though my traffic has doubled by now. What is suspicious to is the fact, that my uptime monitoring tool doesn't report my site as offline for short periods of time anymore. I assume that at SiteGround, my WordPress went offline for a few seconds when under high load. At Kinsta, this is obviously not an issue anymore. 😎
One last important thing: At first i thought, and maybe you do too, that Kinsta is only for sites who experienxe high traffic peaks. Well, true, but I didn't know, that this happens to be true for basically all sites. People have more time in the eveneing when they are at home, then they have at work 😁
Security
At Kinsta you get a real firewall, which is integrated in the 'wiring' of the data center. So, from a physical standpoint, the packages that want to go to your server have to go through and will be checked.
Other services you could buy on a monthly basis, like i.e. Virusdie or WebArx, so called WAFs (Web Application Firewalls), are another story. They can be bypassed with some tricks and are not as reliable as a 'real' one. Don't get me wrong: WAFs are not bad, but don't provide full protection either. Both of them together provide a real protection!
Believe me, I had Virusdie active on all sites when they were attacked, but they were bypassed by this attack. Today I know, this can happen, back then I didn't know…
For all the non techies: The Firewall at Kinsta is the best I have had so far, without even configuring it. Daily new attackers or bots get blocked automatically, without me even noticing.
Conclusion – Siteground, Kinsta or Cloudways?
Does this mean, we should all run to Kinsta? NO, not at all! Anybody who tells you there is one single right solution for you just lies. It depends on your website, skills and where you and your business are right now:
1. SiteGround

I think, for the most of you who want to start one or a few WordPress sites, get a little bit of experience or are just starting out, SiteGround will be a perfect fit. The low entry-costs, the great performance for shared hosting, the reliability and the support makes SiteGround a solid choice. But consider the following:
Shared Hosting is not a good choice for WooCommerce
Don't choose any other plan than GoGeek, they'll run out of resources very fast
Don't chosse a runtime to high, for the start i recommend 1-2 years

In my case I maxed out the GoGeek plan after 13 months and I had to move on
Even though the performance is not as unbelievable like at Kinsta, for the start it's more than enough. And when you are just starting your webmaster career you have other things to work on than the last bit of performance optimization and reliability. AdSense, building up your community or growing your business are maybe more important at the beginning 😉
2. Kinsta
Kinsta is like the diamond under the WordPress hosting providers. You pay a little more, but you so much value in return. The reliability, blazing fast performance even at high traffic peaks and the outstanding support are only a few to mention. Auto scaling server at no additional costs and the phenomenal dashboard makes Kinsta a great fit for WooCommerce sites or blogs with high traffic.
If you know your blog will get a lot of traffic or already has plenty of it and you are only okay with 100% reliability and the fastest performance possible, go for the 'Peace of mind' experience at Kinsta.
I think, at a certain point of your business or at a high traffic amount, the higher hosting costs are not that important anymore. Even for myself (only with blogs) there was a point, where the availability and performance of my site was way more important, than counting every penny. My AdSense pays very well for the Kinsta hosting, if you were asking yourself this question 😉
For me the biggest advantage is, that my sites are always available now and blazing fast.
3. Cloudways
If you don't mind configuring your servers right from the beginning, want to have full control and know a few technical things about hosting, than cloudways could be your golden choice. But please consider, that you will spend some time configuring, maintaining and debugging your servers. If you want to get into hosting yourself or provide it to a few clients, good choice!
But if you want to focus on blogging, SEO or just getting your site online and hosting is not going to be your main business focus, you should consider another provider. To be honest, you could easily invest hours just in troubleshooting. And while the support is not bad, it's not that good either. I guess they are assuming that the customers at cloudways already know some things about hosting.